The new "Era"of trading, how to start ?

ZuluTrade thinks, operates and trades for you, YOU just have to sit and relax!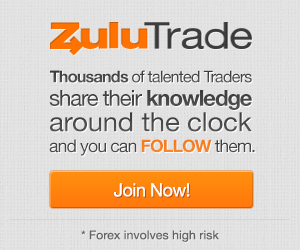 Trading is a headache no more!
You don't have to learn or observe the market, because hundreds of signal suppliers from around the world will do it for you.
It is very simple and easy all you have to do is pick the Signal Suppliers/Trader you wish, and ZuluTrade will quickly change their guidance into live trades in your trading account promptly with the broker.
And the good news is, it's totally FREE!
Let's learn more about ZuluTrade :
What is ZuluTrade?

How to start ?
What is ZuluTrade?

ZuluTrade is a financial services company and operating in the Forex market. It is the owner of an online retail foreign exchange platform which delivers social trading.
ZuluTrade comes from an intension that would make forex trading approachable and simple to anyone. This intension maps to an exclusive online and mobile social auto – trading platform with a worldwide influence of more than half a million customers. ZuluTrade operates in Forex and binary options.

How to start?

If it is the first time that you will trade online or you never had an on-line trading account with one of the brokers ZuluTrade supports, then the first step is to open a new account, by clicking here.
After clicking on the button "Register" and "Open a Live account". Then you are done, all you have to do is start!
If you are already registered with one of the brokers that ZuluTrade collaborate with, after clicking on the button "Register" and to "Open a Live account", you need to click on the image representing the logo of the Broker that you are operating with. The system will then ask you if you have already an account with that Broker.
If you do not have a broker that connects with ZuluTrade , don't worry !!
After registering with ZuluTrade, you will need to follow the procedure of opening an account with the Broker. In both cases though, the system will guide you through the procedure.